Today I'm gonna be sharing with you the top 10 all-inclusive Caribbean resorts now it's
a little bit of everything in this list some of these all-inclusive resorts are
kid-friendly some of these are travel only and they include a lot of different
Caribbean destinations so please don't take this list to heart this list is
based on a lot of different factors value for your money things to do things
like that of course is based on your personal preference with whichever one
you think is the best but this is my top 10 and so if you want to know the top 10
all-inclusive Caribbean resorts please stay tuned alright.
10. Barbados – Mango Bay
This is a four-star resort in the whole town area on the gold coast of Barbados it's a 76 room hotel that has the
convenience of an all-inclusive resort with a small resort feel it features one
restaurant with indoor or outdoor seating it serves breakfast lunch dinner has unlimited drinks at the bar and
nightly entertainment it also has a spa and watersports now the room options include a standard
room a superior room deluxe room oceanfront room penthouse suite and a
standard one bedroom and this Resort is not adults only it is kid-friendly and out of all the ones on the list I really
think this one is my favorite only because it's just so cute it's like a small little boutique resort and it's
really intimate and I don't know I just really like this one there's some other
ones like this on the list but this one definitely I think
9. Dominican Republic – Sanctuary Cap Cana
This Resort is an adults-only five-star resort in Punta Cana along a stretch of pure white sand beach it has
a hundred and eighty-four rooms with 13 room categories to choose from with three architectural styles Spanish
colonial Caribbean villas and the castle Suites it's a private retreat on 30,000
acres so this Resort is huge it has four formal restaurants one buffet restaurant
three bars at the resort and then across the street is this area called sanctuary town and sanctuary town has three
restaurants one of which is a burger bar have a taco truck coffee bar a regular
bar and a sweet shop and the resort itself also has a spa nightly
entertainment water sports and golf I've actually been to this resort a few years ago and I went in January and the
weather was beautiful the resort was beautiful it is huge only thing about this resort and I'm
just giving this little tidbit of criticism because it's the only one I've
actually been to so I can let you guys know but we went in January and I guess
it was the offseason but the beach really wasn't that great it was a lot of
seaweed and a lot of debris and like rocks and stuff I don't know if it was because we went as I said in an
offseason in the winter maybe the beach wasn't at its best I can't speak for the summertime maybe the beach is better but that is the only thing about this resort that I can tell
you is that if you go during the wintertime months the beach may not be
the best but other than that like we just stayed in the pool we had a pool
right by our room and everything else was beautiful so alright
8. Jamaica – The Caves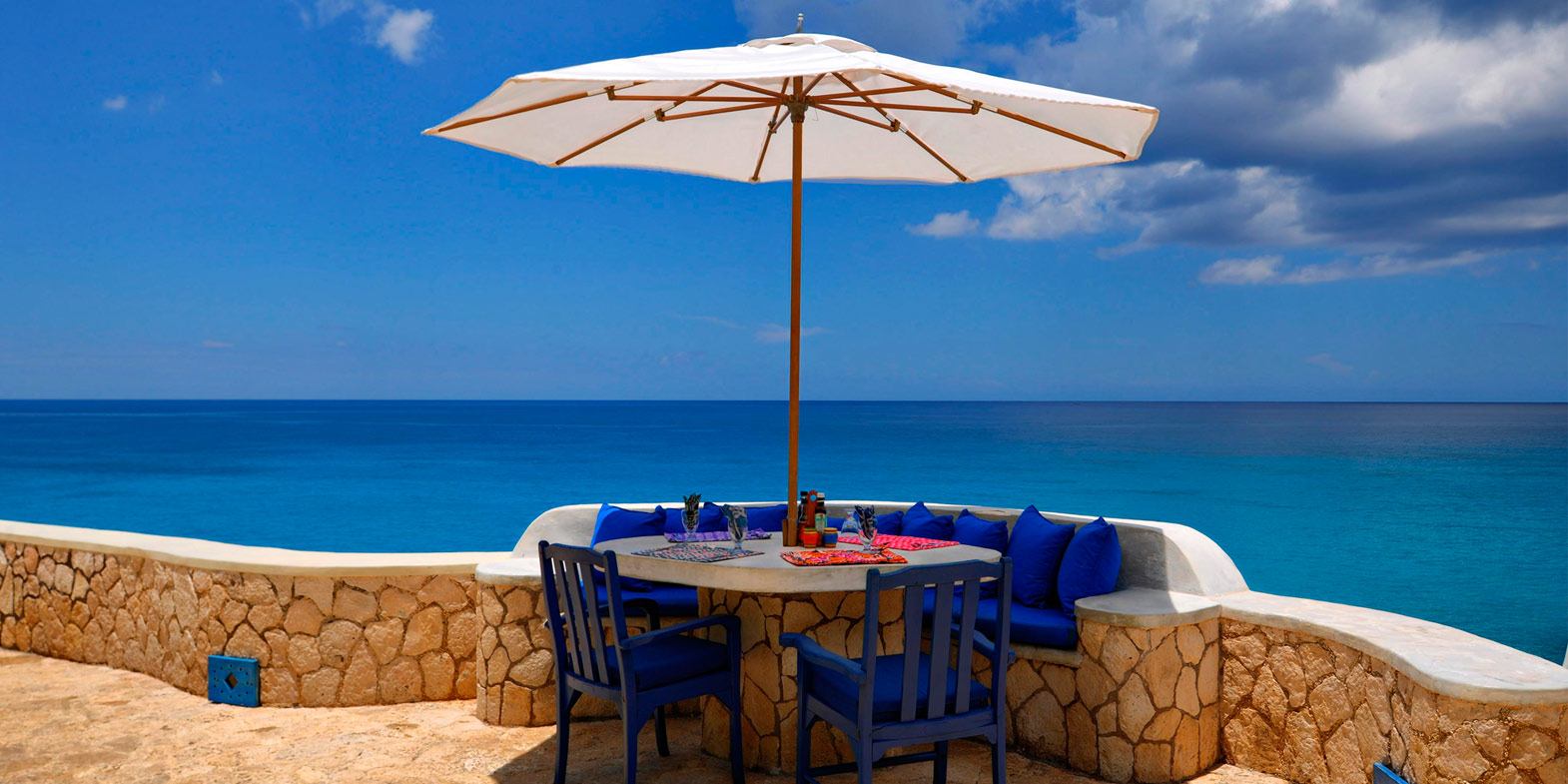 This is a four-star adults-only Natural Preserve in Negril just minutes from Seven Mile Beach and 80 minutes from Montego Bay in Westmoreland on the limestone cliffs of Negril scenic West End in Jamaica it features twelve cliffside cottages with nine room options a grand villa two dining gazebos private caves and the
Blackwell rum bar there's a spa jacuzzi sauna private hot tub and saltwater swimming pool the restaurants include the main dining room the gazebo private cave dining and they actually set up your own personal table for two inside
of the cave it's like a candlelit dinner you have a private waitress or waiter
read your food out really really awesome another restaurant called the sands and
the rum bar and your entertainment here include watersports and the grill
nightlife so this one sounds really awesome the whole I in the picture that
you can see the hotel is literally like in a cave it's really really awesome
7. Dominican Republic – Paradisus Palma Real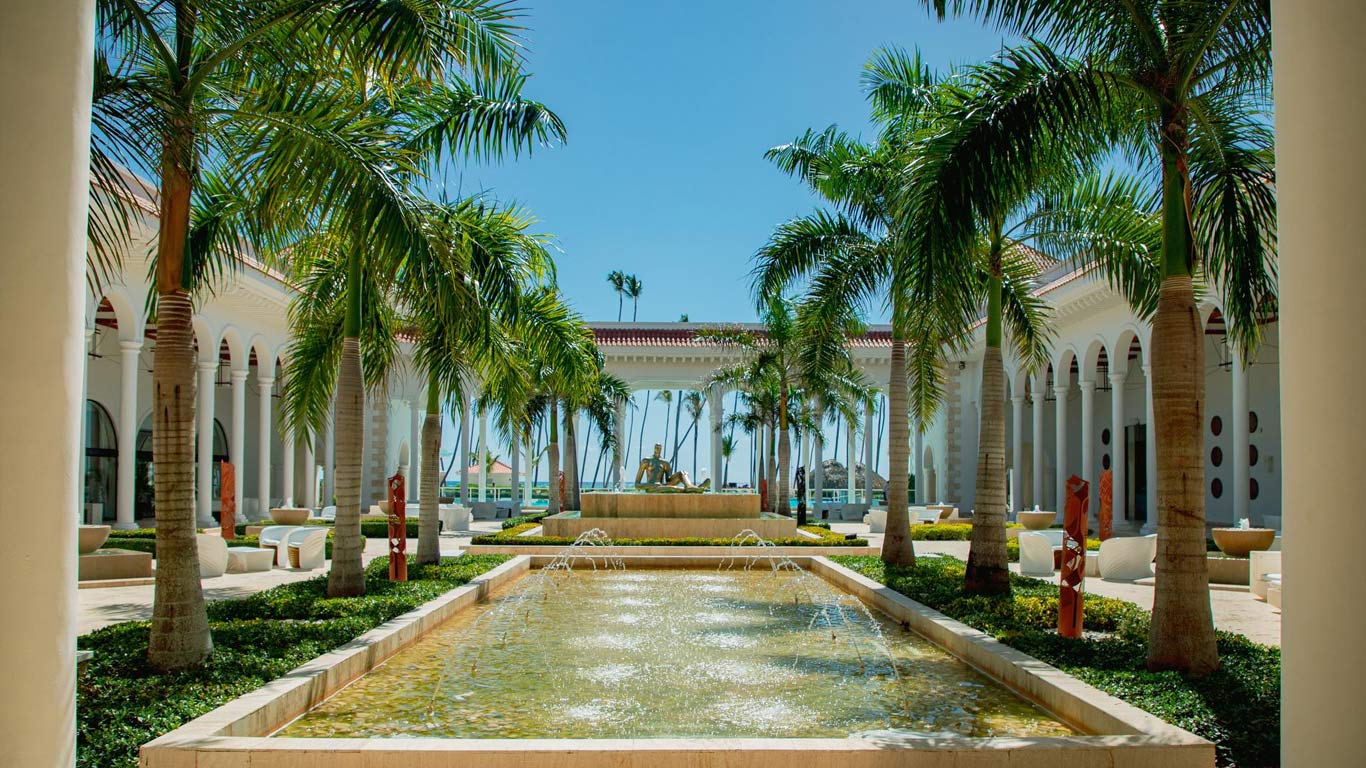 So this is a 5-star luxury Golf and Spa Resort located in Punta Cana it has nine room
categories that include one and two bedroom suites and an adults-only
presidential suite with private Terrace and a jacuzzi the presidential street suite at this hotel is like huge it is
really really huge really awesome features eight restaurants one
adults-only restaurant run by a famous Spanish chef with eight Michelin stars
as a beach bar and a beachside cafe it features an oriental spa spa a disco
lounge a gym and pools you can receive what's called the Royal service at this
resort and it includes private access to special VIP areas including a private
pool a private spa lounges and butler service so you can look in how you sign
up for the royal service at this resort the resort also has shops a gazebo for
weddings local mini market once a week a pharmacy and a medical center at this
resort so that is really awesome this Resort is family friendly so it is not an adult only and
I just want to point out all these resorts you can have a wedding at
obviously but I would say the bigger ones like this one are more you know
wedding friendly if you're having like a wedding party and all this stuff but so
that one definitely you can have weddings at or really really beautiful all right so where are we right
6. Grenada, West Indies – Spice Island Beach Resort
So this is a five-star resort that is Grenadiers only recipient of the
Triple A Five Diamond Award only 0.4% of more than 27,000 hotels each year
receive this award so that is HUGE so this resort features gourmet dining cocktails
oceanfront swimming pool tennis cycling golf non-motorized water sports a spa
yoga and a full-day children's activity program and it features pool suites
Beach Suites and Guardian suites as their room options it has one formal
restaurant and a surf and turf restaurant and bar so as I put in there
it has a full day activities program so it is family-friendly okay
5. Antigua – Curtain Bluff
halfway through is curtain bluff in Antigua this is a four-star resort that is consistently ranked among the best
inclusive resorts and tennis centers in the world it is kid-friendly with tons of activities including scuba diving and
other water sports tennis fitness centers yoga and Pilates golf computer rooms children's playground and more it
has to be ch's not one but two different beaches on different sides of the resort
and for room categories to choose from it also has two restaurants and a wine
cellar which features tours and wine tastings y'all this resort has its own
wine cellar it's like a huge like wine cave with like hundreds of wines like
crazy never been there but based on the pictures this looks amazing all right
4. The body holiday in st. Lucia
This is an adult's only four-star Wellness Resort surrounded by tropical gardens and rainforest it's the ultimate getaway for body and mind it's recognized as being one of the best resorts and centers of well-being
and you can do as much or as little as you like at this resort it features a
Wellness Center which is the ultimate spa and it also includes a temple there's fitness yoga cycling body science programs now these body science programs include like testing your BMI, and testing your metabolism things like that and it also has a week-long
retreats now these retreats include cleanse and detox retreat a weight-loss
retreat yoga retreat de-stress and mindfulness retreat and more so that's
really really awesome you can go on a retreat and just focus on like weight
loss or mindfulness and it's like a week-long getaway for this and that is
really awesome that they include this and this hotel also has ocean view and garden view rooms available
it features four restaurants a deli a piano bar a clubhouse a wine salon and a
farm-to-table experience with a healthy authentic West Indian cuisine amongst
the trees so they take you out to this restaurant that's out like in the
rainforest and it's a unique farm-to-table experience where they
actually go and pick the fruits and vegetables from the surrounding areas
and you eat it fresh and everything is just super authentic and it just
sounds awesome so this is like the ultimate lowness resort if you're into that
3. Jumby Bay in Antigua
So this is a five-star resort on a 300-acre private island reachable only by boat with no cars in sight so it
features three beaches with white powder powdered sand palm trees and winding
bike trails it's a beautiful resort with a beach bar and watersports
amenities include twice-weekly resort excursions on a private yacht tropical
welcome cocktail and gourmet food and drinks and more so there's rooms there
suites there's private villas and private fully equipped luxury homes with
a private chef housekeeper and a butler yes this private island also has private
homes that you can rent so instead of renting a room at the resort you can rent out these huge homes or these
villas and the homes come with your own private chef housekeeper Butler
everything like that is awesome so of although it's not a part of the actual
all-inclusive resort experience you also have this option here which i think
is great so Jumby Bay is like the name of
the actual island and it features two formal restaurants at the resort a
poolside grill and four bars and this Resort is family friendly alright so
2. Calabash Cove in st. Lucia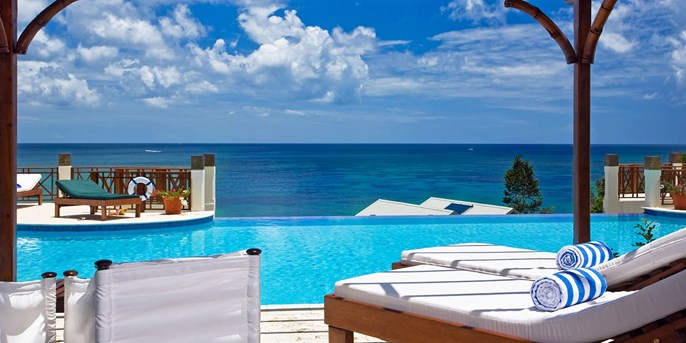 This is an adult's only four-star resort with land activities watersports in a
40-foot infinity-edge pool it also features a music room to relax and the
beautiful cove gardens surrounding the resort it also features a luxury spa a
fitness center and a beauty parlor activities including sailing scuba
diving snorkeling ziplining hiking golf and more are available at this resort
and rooms include cottages on the beach swim up junior suites and sunset ocean
view rooms so these sunset ocean view rooms without
which I thought was really cool is the room is specifically facing sunset every
single night so you can see the sunset from any room every night that is really
cool and it features a one formal restaurant
with an indoor bar and a swim up pool bar at this resort so and here we are at
1. Hermitage Bay in Antigua
So this resort is a five-star privately owned luxury boutique hotel on the west coast of Antigua with 30 individual Suites set in tropical gardens on a beautiful beach in hillside so this resort as you can see with only 30 and jool sweets is really intimate and it's
like a small boutique setting really romantic activities on the resort
include golf tennis failing scuba diving watersports a fitness center cooking
course helicopter tours and more of the 30 Suites 13 of them are on the beach
and 17 of them are built into the actual hillside of the island there are hillside pool Suites
beachfront streets beachfront suites and
Garden Suites so the hillside pool Suites you get an individual pool as a part of your room how cool is that, so this resort features a restaurant a bar in an organic kitchen garden which is kind of like a farm-to-table experience just like the other one and this one however is not a dolt only but,
I want to point out that because of exclusivity of this resort there are very few children at this resort in any given time so if having kids at the resort is an issue for you with this one
I wouldn't worry about it there's not that many that come so you guys that is it I wanted to share with you guys this list I thought it was really cool
like I said this I'm a travel agent this is what I do so more of these posts
will be coming your way I definitely will be doing more research and sharing
with you guys, anything that I find about exclusive deals and destinations so stay
tuned for that please subscribe to Newsletter if you haven't already please share this article
experience share your experience with other people reading this article any information is helpful.